Always Seeking on Vinyl (release date in 2023)

"Always Seeking" will be available on amber marbled vinyl and standard black vinyl with artwork and poster by Anthony Macbain (Grand Theft Auto etc) in 2023. The album is an independent release in association with Vinyl Moon in the US, a monthly vinyl "mixtape" club who featured Jake's music on Vol. 085 with artwork by Jared Sylvia.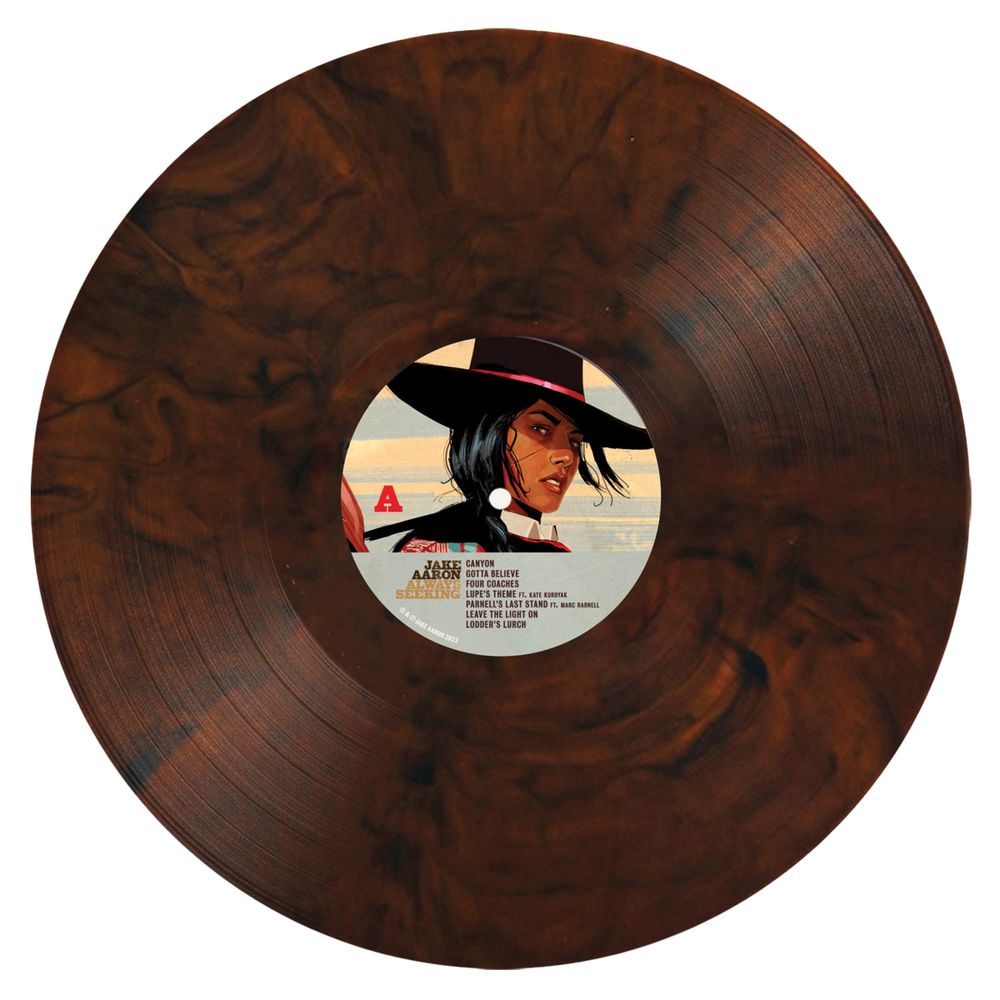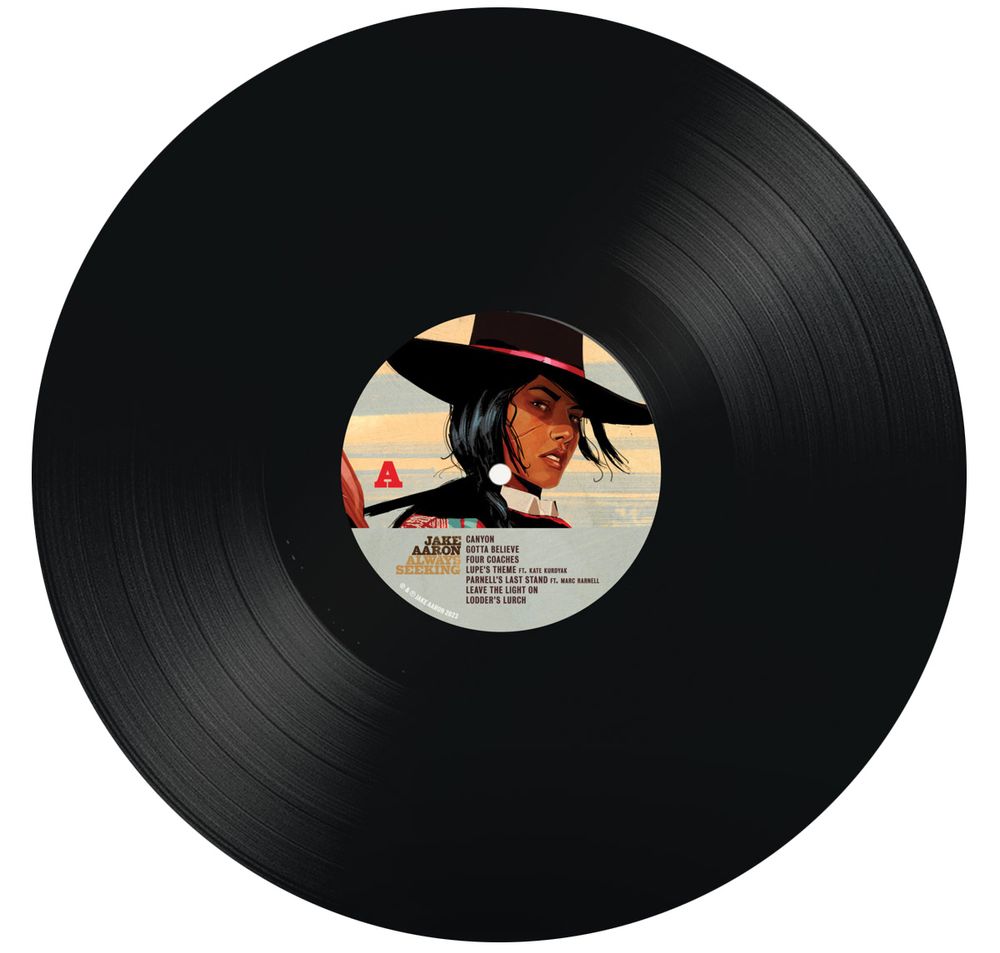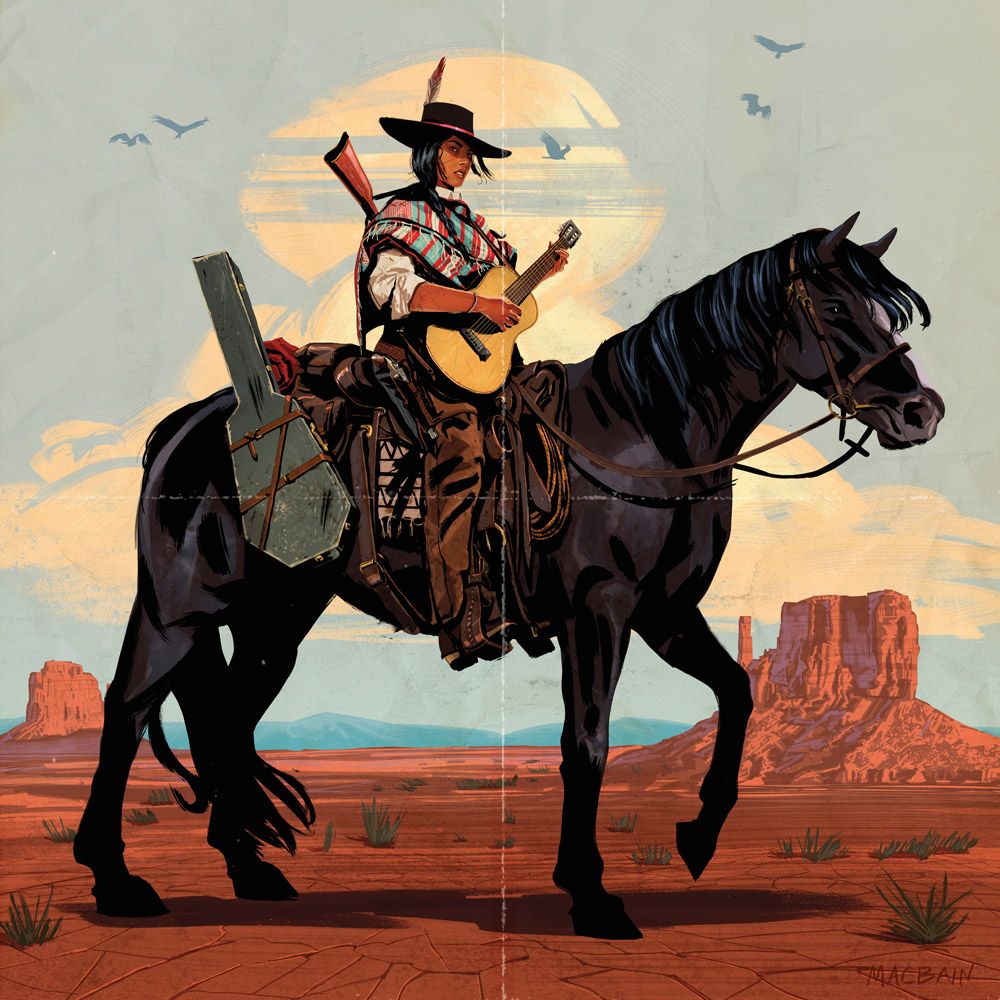 REVIEWS
"At the time of reviewing I have download images only of the cover artwork from Anthony Macbain, but the front and back cover pictures are magnificent ... it will be a great shame if these works do not end up adorning a run of CD's and, even better, old school vinyl ... the album really is a proper immersive experience, way beyond good songwriting and performance" - Fatea Records - Full review 
"I reviewed FAG ASH AND BEER, Jake Aaron's last and intriguing album in 2019 and was captivated. ALWAYS SEEKING sees a more cohesive blend of the same elements around Aaron's fine guitar and voice, pulled together as what he describes as Cowboy Noir. There are no pedal steels or dobro, the music blends americana, jazz, rock, mariachi and folk but with Anthony Macbain's wonderful sleeve illustration to set the scene, both the inspiration and the atmosphere are palpable." - Time Past and Time Passing  - Full review 
"Perhaps not since Elton John's 1970 classic Tumbleweed Connection has a British artist so artfully and dynamically embraced country/Americana and the enduring mystique of the Old West as Jake Aaron does on his compelling, multi-genre influenced collection ALWAYS SEEKING" - The JW Vibe - Full review 
"Like a bit of jazz/fusion with your Americana - this is the disk for you. In it, Londoner Jake Aaron exquisitely conveys the disk's Western Noir theme by combining great storytelling with an eclectic set of players including fusion guitarist John Etheridge, the red hot trumpet of Steve Waterman, Steve Lodder's soulful organ and the very earthy double bass of Davide Mantovani. Together they produce a sound that is minimal, yet melodic and accessible. Give it a spin and you'll be captivated as you traverse the hot desert along with the heroine seeking redemption." - Mr Bones, Hanging in The Boneyard, KZSU Radio Stanford U.S. - Full Review
INTERVIEW
Jake Aaron Q & A with Darren's Music Blog 
MUSICIANS
I was very happy to play with the same musicians from my first album ("some of the best players in the UK" - Linley Hamilton, BBC) plus guest appearances by fusion guitarist John Etheridge and singer Kate Kurdyak from Canadian noir pop band Vox Rea.
Jake Aaron: Guitar, vocals 
Steve Lodder: Keyboards 
Davide Mantovani: Bass 
Marc Parnell: Drums, percussion 
John Etheridge: Lead Guitar ('Four Coaches', 'Gotta Believe', 'The Revenant') 
Kate Kurdyak: Vocals ('Lupe's Theme' and backing vocals on 'Gotta Believe') 
Steve Waterman: Trumpet ('Leave the Light On', 'Killing Time', 'Always Seeking')
Join my mailing list below for update on release date and ordering