""High Rolling" reminds me of the old British folk guitarists like John Renbourn and Bert Jansch ... a little bit of America's Kottke and a touch of John Fahey. Nice fingerstyle. Smooth.." 
Patricia Lynch, Reverbnation
 
17 June 2021 thanks to Raighes Factory for the mention of "High Rolling". Seems a long time ago I recorded it in Camden Studios waiting for the overhead trains to pass. The engineer was a great guy, a psychobilly called Phil Doyle, it was a shame when he packed up the studio. You can download a free copy below.

High Rolling is included on a vinyl of my first EP from 2015. It was quite a rough and ready collection of 5 pieces, and it was a very short run of just 300 copies. There's a picture of Mr T on the inner sleeve which can only be a good thing. A few unsold copies of this vinyl have fallen out of the attic, if you'd like a copy see https://jakeaaron.com/vinyl 

If you'd like one of the handwritten notes from the EP you are welcome; please mention with your order.
Jake Aaron
17 June 2021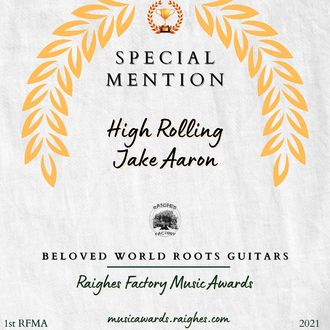 BELOVED WORLD ROOTS GUITAR
RAIGHES FACTORY MUSIC AWARDS